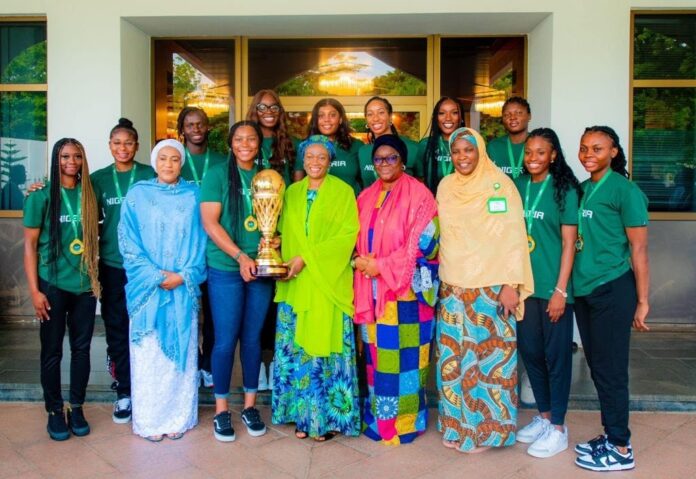 The First Lady, Senator Oluremi Tinubu on Monday paid tributes to the returning Super Falcons who recently crashed out of the ongoing Women World Cup (WWC') in Australia in her office at the Presidential Villa, Abuja.
The President's wife, who received some of the players, their technical team and officials of the NFF, said the girls displayed dedication, resilience, team spirit with the zeal and strength that defined Nigeria.
According to a release by her spokeswoman, Bukola Kukoyi, the First Lady paid glowing tributes to all the players who she said have represented Nigeria on the global stage, noting that the world took notice of their dexterity.
"Although the final result did not go our way, I am here to remind you that victory is not solely determined by the score on the field. The unbreakable spirit and unity that you demonstrated are  true markers of success.
"You have not only represented Nigeria on the global stage but have also become role models for our youth, especially young girls who now see their aspirations mirrored in you.
"I salute you today and welcome you back home and our goodwill and best wishes go to other players who have gone back to their base.  You gave your all, and we stand with you. We are so proud of you".
In his remarks, the President of the Nigerian Football Federation, Alhaji Ibrahim Musa Gusau thanked the First Lady for the warm reception and assured that the players would continue to give good and qualitative representation to the country.
The captain of the team, Onome Ebi, said the team worked very hard and tirelessly to bring home the coveted FIFA Women's World Cup Trophy.
 She promised that the team would continue to press on relentlessly to ensure they make the country very proud on the football field.
The First Lady received the Super Falcons with the wife of the Vice President Hajia Nana Shettima and wife of the Senate President Mrs Ekaette Akpabio