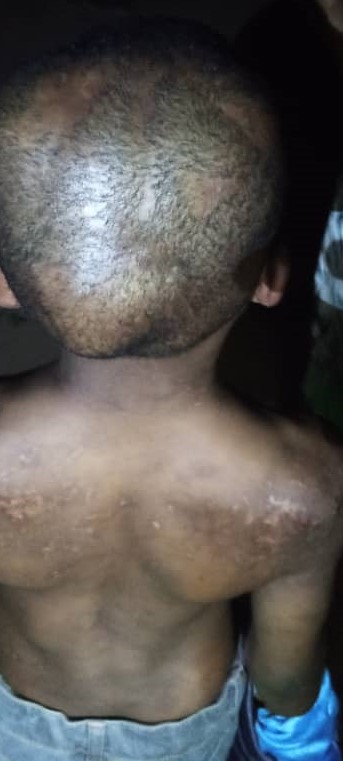 A 10-year-old boy, Divine Onyebuchi has been deformed by his step-mother Mrs Peace Onyebuchi through regular torture and beating that has left deep cuts all over his body and with swollen head.
According to mandated reporter who is a neighbor to the family, the cry of the boy every night drew their attention to investigate what was going on until they found out that Divine was locked up in a room with fresh and dry wounds all over his body.
"We had no choice than to call Mr Ebenezer Omajalile of Advocates for Children and Vulnerable Persons Network, ACVPN to come for the boy's rescue. We also noticed that the boy has not been attending school but has been facing torture in the hand of the woman since the father left for Gambia last year to source for greener pasture.' The mandated reporter added.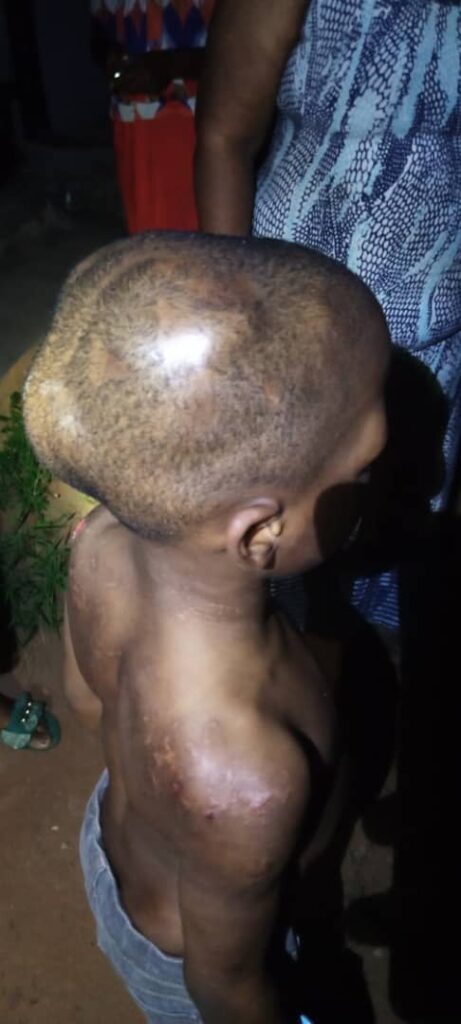 The perpetrator who denied being the step-mother of Divine, claimed she is the biological mother and that it is anger that led her to torture him like that. She added that she had Divine from her first relationship but had a three-year-old boy who is with her with the present husband. However, the neighbour who is the mandated reporter debunked her story and insisted she was not the mother of the child.
The swift response by ACVPN with the Policemen from Gender Unit of Ajangbandi Police Station led to immediate rescue of the boy among jubilation from the neighbours who had secured the house to make sure the woman did not escape.
The Advocates from ACVPN narrated their ordeal; "The survivor is badly damaged. He has a distorted growth because he looked like a six years old boy. His front teeth is completely wiped out as a result of punches from the mother. There are several scars all over his body and he couldn't stand very well. His back is protruded as if he has Hunchback. His left ear is completely messed up and there is just little space on his head that is not swollen".
In an interview session with advocates, the woman said she was in a relationship for three years with a man called Victor in Gambia. However, when the man discovered she was pregnant, he abandoned and denied the pregnancy. While on the streets with the pregnancy, she met another man who took her in and brought her back to Nigeria. She further explained that while in Nigeria she also got pregnant for her 3 year old son who she treats very well.
According to latest report, the perpetrator, Mrs Peace Onyebuchi  is presently detained at Ilemba Hausa Police station where she will be transferred to Gender Unit on Monday. The survivor, Divine Onyebuchi is receiving medical attention at Igando General, Idera Centre in Lagos.