Djibouti, is a country on the Horn of Africa, is known as the little Afro-Arab State in the East Africa. This is because the country is home to a small population of Yemeni Arab.
Djibouti is mostly French- and Arabic-speaking country.
Its port is the lifeblood of its economy, providing the biggest source of income and employment for the people.
Djibouti is a prized location for foreign military bases and ensured a steady flow of foreign assistance. This is because of its proximity to restive areas in Africa and the Middle East and its relative stability.
Former colonial power, France maintains a significant military presence. The country also hosts America's largest military base in Africa.
China's first overseas military base and Japan's first military base since the Second World War is in Djibouti.
Djibouti serves as the main gateway for trade for its giant neighbour, landlocked Ethiopia.
Djibouti is a member of African Union, the Arab League, the Francophonie, Intergovernmental Authority on Development (IGAD) and Organization of Islamic Cooperation (OIC).
A small but important country, Djibouti benefits from its highly strategic location. With access to the Gulf of Aden and the Indian Ocean beyond, the country is a significant gateway to the Horn of Africa and the wider region of East Africa.
The capital, Djibouti city, is one of the warmest and driest cities in the world. Average temperatures here range from 23°C in winter to 42°C in mid-summer
Facts File about Djibouti
Dialing code: +253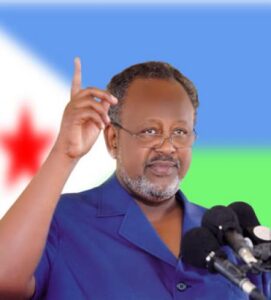 President: Ismail Omar Guelleh
Continent: Africa
Capital: Largest city is Djibouti
Currency: Djiboutian franc
Official Languages: French and Arabic
National Languages: Somali, Afar
Population: 958,920 (2018) World Bank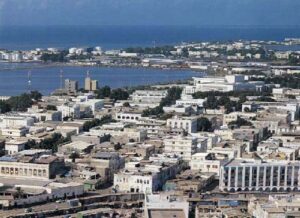 Flag: National flag consists of a horizontal stripe of light blue over one of light green and, at the hoist, a white triangle bearing a red star.
The light blue represents the Sky, and the green represents the everlasting green of the earth. The red star stands for unity and the bloodshed of martyrs.
Food: Skudahkharis is indisputably the national dish of Djibouti. Commonly prepared during the Islamic holiday of Eid al-Adha, it is made of rice, lamb and ayurvedic spices such as cardamom. It can also go well with chicken, beef or fish.
East Africa has 18 countries:
Burundi, Comoros, Djibouti, Ethiopia, Eritrea,  Kenya, Madagascar, Malawi, Mauritius, Mozambique, Rwanda, Seychelles, Somalia, Tanzania, Uganda, Zambia, and Zimbabwe, South Sudan