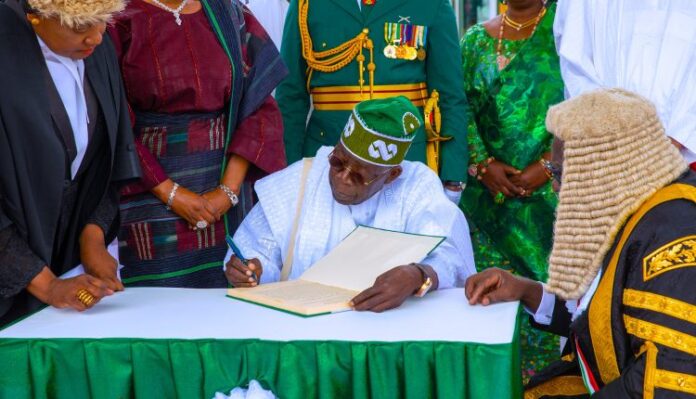 President Bola Tinubu has signed the student loan bill into law.
Tinubu signed the student bill on Monday at the Presidential Villa, Abuja.
The President's assent to the bill is in fulfilment of one of his promises to liberalise funding of education in the country.
The Permanent Secretary, Ministry of Education, Mr. David Adejo Andrew,
flanked by the President's media team, led by Mr Dele Alake, member of the Presidential Strategic Team, disclosed this to State House correspondents, at the Presidential Villa, Abuja.
Other members of the President's media team at the briefing, included Tunde Rahman and Abdulaziz Abdulaziz.
The Permanent Secretary said that the Students Loan Bill that has been signed into law is an interest free loan.
Asked if the new law will not encourage inflation of school fees, the Presidential Media Team leader Alake said both situations are unrelated, adding that the idea behind the law is to help indigent students to be able to obtain education in the country.
He said, "We are very happy to announce to you that today (Monday), just a few minutes ago, the President His Excellency, Bola Ahmed Tinubu, signed into law, the Student Loans Bill and that Student Loans Bill, you all know what it entails, what it connotes the meaning.
"This is the promise made during the presidential campaign by the then candidate, His Excellency, Bola Ahmed Tinubu, that he will bring back the student loans issue to the front burner and today, that promise he made has been kept, he has just signed that bill into law, which henceforth, will allow or enable our indigent students to access federal government loans to fund their educational pursuit or career and this is how it's done in other developed climes all over the world", he said.
Alake further stressed that the grant is solely for the purpose of creating opportunity for indigent candidates to get education.
The new law provides easy access to higher education for Nigerians through interest free loans through the Nigerian Education Bank with a view to provide education for all Nigerians.
According to the act, all students seeking higher education in any public institution of higher learning in Nigeria shall have equal rights to access the loan without any form of discrimination arising from gender, religion, tribe, position or disability of any kind.
The Act also stipulates that the loan shall be granted to students only for the payment of tuition fees.
Recall the legislation which seeks to provide financial assistance to Nigerian students in tertiary institutions, was passed by the national assembly in November 2022.
The student bill was sponsored by Femi Gbajabiamila, immediate-past speaker of the house of representatives.