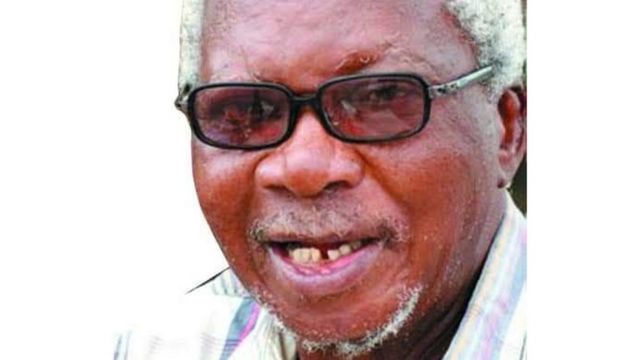 Johnson Pepper Clark-Bekederemo, was born in Kiagbodo, under Burutu council area of Delta State.Nigeria, on April 6, 1935. Clark-Bekederemo was the son of a chief in Nigeria's Ijaw ethnic group, in the Niger River delta region of the country.
Growing up in a small fishing village, he had no elementary school, but Clark-Bekederemo nevertheless enjoyed the best education that British colonial Nigeria had to offer due to his parents' influence.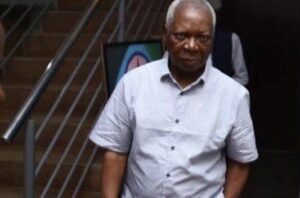 He attended British-run schools in the towns of Okrika and Jeremi and then entered the colonial Government College in Ughelli, graduating in 1954. Clark-Bekederemo worked for a year as a government clerk, gaining contacts among Nigeria's elite, and in 1955 he entered the University of Ibadan (still a branch of the University of London at the time). He majored in English and received an honors degree in 1960.
He did his BA degree in English at the University of Ibadan where he edited various magazines including the Beacon and The Horn.
Clark is noted for several quality dramatic works including Song of a Goat – premiered at the Mbari Club in 1961,  and The Masquerade (1964).
Clark-Bekederemo had already become noted as an important writer. He and several other undergraduates founded a literary magazine called the Horn, which served as a vehicle for Clark-Bekederemo's early work. His poem "Night Rain" was one of his earliest, and at the same time one of his most widely reprinted.
Clark studied a year at Princeton, after which he published America, Their America (1964), which was a criticism of middle-class American values and black-American lifestyles. His works also included Poems (1962) and A Reed in the Tide (1965), His Casualties: Poems 1966–68 (1970) which talks about the Nigerian civil war, Decade of Tongues (1981), State of the Union (1985, as J.P. Clark Bekederemo), and Mandela and Other Poems (1988). He wrote and published plays as well.
As one of Africa's leading authors, he has continued to play active roles on literary affairs even after retirement, resulting in his receipt of the Nigerian National Merit Award for literary excellence in 1991. Howard University published his two definitive volumes, The Ozidi Saga and Collected Plays and Poems 1958-1988.
He held visiting professorial appointments at several institutions of higher learning, including Yale and Wesleyan University in the United States. The poem reviewed here below is one of his most studied. This poem should not be confused with another of the same title by Wole Soyinka, the other Nigerian great.
Some of his poems
Some Solution,
The Demolition of JK Randle Hall, Onikan (Bulldozed by the Lagos State Government on Saturday, 24th September, 2016)
No Fair Game
(a page lost from Aesop, for G.K.J. Amachree on his centenary)
The Message from Boro (For Sam Amuka)
This Magic Naira
(for my son, back home)
Witness of Truth
(for Itse Sagay)
A Tale of Two Cities
One marketplace
The blockade
Triage (for Alao Aka-Bashorun)
The poem below is one of his most studied.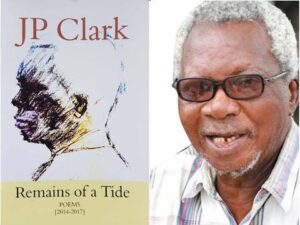 'ABIKU'
Coming and going these several seasons,
Do stay out on the baobab tree,
Follow where you please your kindred spirits
If indoors is not enough for you.
True, it leaks through the thatch
When floods brim the banks,
And the bats and the owls
Often tear in at night through the eaves,
And at harmattan, the bamboo walls
Are ready tinder for the fire
That dries the fresh fish up on the rack.
Still, it's been the healthy stock
To several fingers, to many more will be
Who reach to the sun.
No longer then bestride the threshold
But step in and stay
For good. We know the knife scars
Serrating down your back and front
Like beak of the sword-fish,
And both your ears, notched
As a bondsman to this house,
Are all relics of your first comings.
Then step in, step in and stay
For her body is tired,
Tired, her milk going sour
Where many more mouths gladden the heart.
His death was announced on 13 October 2020.