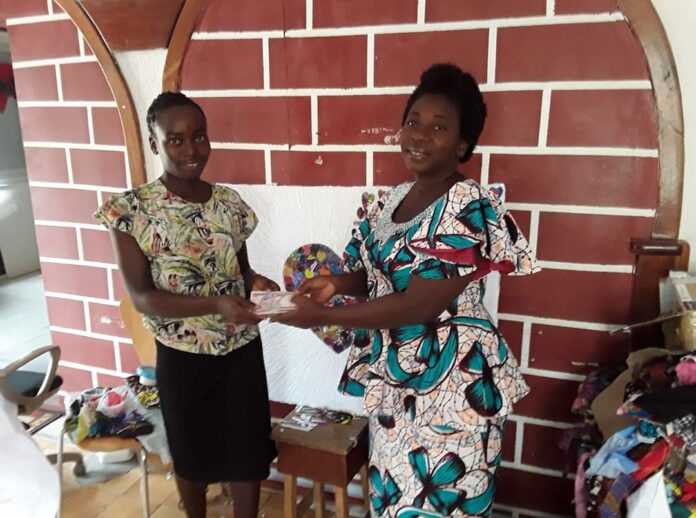 As the world marks International Girl Child Day, the Editorial Team of kiddiesafricanew.com celebrates Abosede Mary Ajiboye, an orphan who despite defied all odds to become a graduate through the help of Olutosin Turns Trash to Treasure, an NGO that has determined to turn around the lives of children and women in Ibasa riverside community.
With Abosede story, it is true that girls with dreams become women with vision. As the world celebrates the Girl Child today with the theme, "My voice, our equal future", kiddiesafricanew.com celebrates girls who are determined to break the glass ceiling to be who God has made them through determination.
Happy celebrations!
Abosede's  Story is worth reading:
Abisede was introduced to Olutosin 7 years ago.
According to Olutosin, Abosede was shy, quiet and preferred to be alone and when Olutosin with her eagle's eyes saw that she needed a friend, she decided to move closer to her. Bose was determined to succeed. Bose focused on her education. She has grown to become a reliable, trustworthy, honest, God-fearing and intelligent young woman. It is rare to find such girls in Nigeria today, but Bose is one. Added Olutosin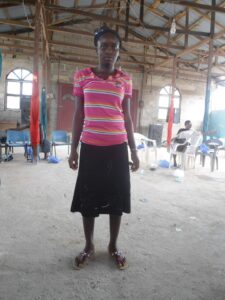 "Her name is Abosede Mary Ajiboye. She lost her mother a few years before I met her and furthering her education was too heavy on her mind, because she is one among Ten children.
She is from Kwara state in Nigeria, but lives around Ibasa riverside.
Abosede was so shy that she shed tears easily and just to give an answer to any normal question made her shed tears. I noted this habit and I was determined to help her work on it. So I promised to support her education by introducing her to Funmi Iyanda. We choose a date and I took her to meet her as an orphan. She agreed to fund Abosede's secondary School leaving West African Examination certificate and a six months computer training program.
She passed her WAEC exams and after a short while, her father died too, after a protracted illness.
So we began to search for another scholarship programme to support her tertiary education. A Non-governmental organisation paid her school fees while we supported her feeding.
She studied Quantity Surveying in Kwara Polytechnic. She graduated after two years and we continued to support her through the mandatory internship by paying her monthly salary to cater for her personal needs including feeding.
After the internship year, I was able to meet my friend in Portland, discussed Abosede's education with her and she promised to support her through her Higher National Diploma programme. My friend, Tahra Smith Wosinski and her friends sponsored Abosede's education through Yaba College of Technology.
It was a great relief for me because this time around, Tahra Smith's team supported Bose's education, accommodation and sent dresses and sandals to her, while our foodbank supported her feeding.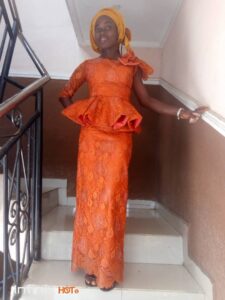 Bose is Brilliant in her own way, she never allowed the death of both parents to hinder her path to success. She journeyed gallantly and has become a bold young lady. No longer the weepy whining young girl that was introduced to me in Ijegun a few years ago.
Last year, Abosede graduated from the department of Quantity surveying in the Yaba College of Technology, (Higher National Diploma).
If not for the Covid-19 pandemic, she would have been serving her fatherland in a village in Nigeria.
I was able to learn a lot from the way Abosede's issue was handled, because Abosede was extremely shy, we decided to make her one of our board members, the past 7 years, she has worked with us to build other indigent girls in Ibasa. She has attended many Transformation training both online and offline.
Bose has brilliantly represented us in many events. She has become a good role model to thousands of women and girls.
She is always ready to learn and in the past 7 years, I have been able to teach her Tie and dye, knitting, sewing, farming, animal husbandry and Art making.
She can confidently do all these aforementioned works perfectly. She has trained hundreds of women and girls in these skills.
My usual say is that, if we wear our care Cape, there will be no orphans in the world. Let us embrace the orphans in our midst.
We have an ongoing scholarship programme for female orphans in Ibasa, my friends and myself support these girls and one boy". Olutosin expressed.
Lesson Learned: Abosede never allowed the death of both parents to hinder her path to success. Girls have tenacity to succeed no matter what the environment or the nature presents to them.
Join us as kiddiesafricanews.com celebrate Abosede on the Day of the Girl Child.