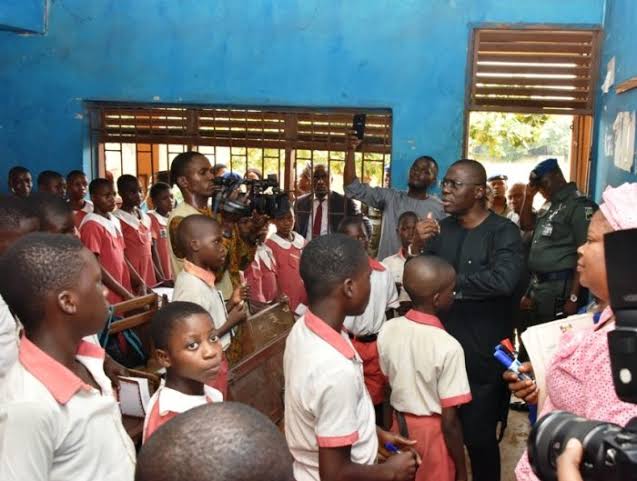 Jacob Adebayo
Over 4000 students have been saved by Lagos State government from impending disaster from a dilapidated school structure at Odogunyan Junior Grammar School, Ikorodu.
The students who learn under dangerous condition have been asked to evacuate the school with immediate effect.
Findings had revealed that the school is also prone to serious flood each time there is a heavy downpour. And this had generated concerns in parents and education stakeholders about the safety of the students against disaster.
In order to avert disaster, the Lagos State House of Assembly Committee on Education ordered the relocation of students to a saver location.
Chairman of the Committee, Hon. Yinka Ogundimu, who spoke during a visit to the school lamented that the buildings in the school are death traps.
Meanwhile, the school Principal, Mr Tolulope Ogunlola had earlier raised alarm over the school structure.
He noted that heavy flood usually occurs in the school when there is rain.
While responding to the principal, Ogunyinka, ordered that students should not be allowed to resume in the school.
"We will call on LASBCA to come and look at the school. The TG/PS should look for ways to redistribute the students to other schools when schools resume."We will communicate with the leadership of the House because the students should not resume here.
"There should be an investigation on the contractors that built the school in 2008 such that it has serious structural defects now.
"The contractors and the engineers that supervised the buildings should be brought to book.
"Something must be done here immediately. We should protect the lives of the teachers and the students, " he said.
According to a United Nations Human Rights Commission report, no group is more vulnerable to environmental harm than children. The report (A/HRC/37/58) indicates that States must do more to respect, protect and fulfill the rights of children in relation to environmental harm.