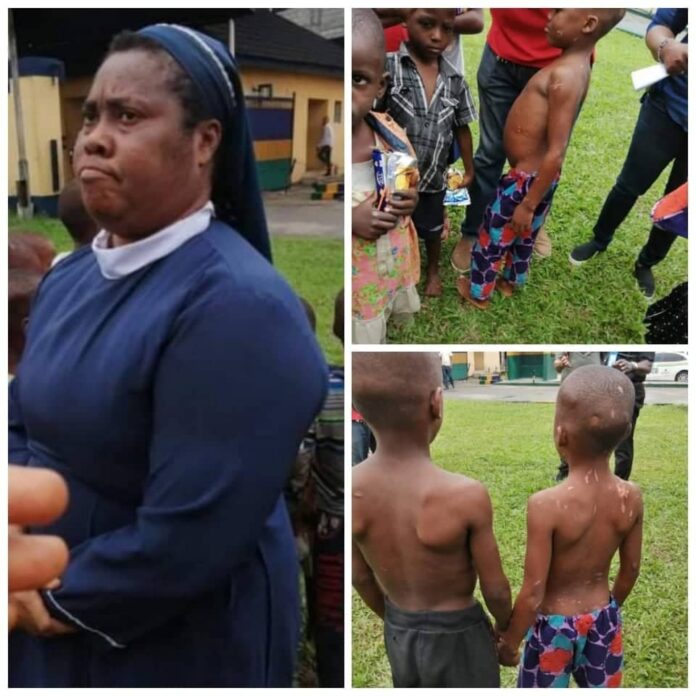 Rivers State Police Command has rescued fifteen children suspected to have been kidnapped by a fake Reverend sister, Maureen Wechinwu in Rivers State.
Briefing Journalist on Tuesday, Rivers state Commissioner of Police, CP Eboka stated that the Reverend Sister who operates a fake orphanage, aged 44 was arrested by men of his command acting on credible information regarding the hideout of child traffickers. 
He added that 15 children were rescued while the case has been transferred to the CP Monitoring Unit for discrete investigation.
Some of the rescued children narrate their experiences thus:
Prosper Godwin male was reported to have been abducted at Ikpazasia market in Bayelsa State on 31/10/2020, together with two others whom he does not know their whereabouts and was taken to the suspects. Later, he was sold to a woman in Lagos and subsequently returned to the suspect. The parents Mr and Mrs Godwin Ododor have been contacted and they corroborated the statement of the child.
Queen Harry female was abducted at Ojukwu filed Mile 1, Diobu, Port Harcourt at about 7 pm, while on an errand with the elder sister. The mother, Mrs Florence has been contacted and she corroborated the facts.
Miracle John Ohiri female was abducted on 19/11/2021 at Ada-George Road, Port Harcourt, opposite Holy Rock Church, along with her mother and two siblings, who have not been seen to date. The father John Ohiri has been contacted for identification of the child, who corroborated her statement that he reported the incident at Rumuokpakani Police Station.
Favour Edeze, a female was abducted at Creek Road Market Port Harcourt on 29/04/2022 at about 10 pm, while on an errand. The father Emeka Edeze has been contacted and identified his child and also confirmed the incident.
Chiemele Obinna female was abducted on 24/04/2022 at Rumuodara/culvert Oroigwe, Port Harcourt, while seated in front of their house with her sister. The mother Glory Obinna was contacted and she stated that the incident was reported at Okporo Police Station.
CP Eboka explained that the police were yet to locate the parents of the remaining 10 children for identification saying that the investigation was ongoing with the view of arresting other suspects linked in the case.
The names and ages of the rescued children:
1) Prosper Godwin 'm' 9yrs.
2) Queen Harry 'f' 7 yrs
3) Miracle John Ohiri 'f' 8 yrs
4) Perculia Michael 'f' 8 yrs
5) Chimobi Mattew 'm' 7yrs.
6) Justice Peter Wechinwu 'm' 4yrs
7) Chukwuemeka Wechinwu 'm' 4yrs.
8) Favour 'f' 9yrs.
9) Onyebuchi Wechinwu 'm' 7yrs.
10) Peculiar Micheal 'f' 8yrs.
11) Madubochi Wechinwu 'm' 10yrs.
10) Francisca Wechinwu 'f' 12yrs
11) Emmanuel Wechinwu 'm' 6yrs.
12) Prosper Godwin 'm' 8yrs
13) Queen Harry 'f' 7yrs
14) Chinwendu Wechinwu 'f' 15yrs.
15) Ogadinma Destiny Wechinwu 'm' 5yrs.
Meanwhile, the fake Reverend Sister Wechinwu in her defenses told journalists that her Orphanage home is genuine. She explained that five of the children were recovered from mad people and others were brought to her by one Victor whom she did not know where he brought the children from.