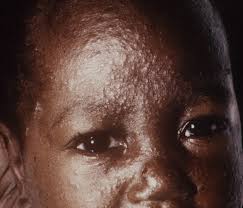 Scores of children have been reportedly feared dead following measles outbreak in Kugbo Clan of Abua-Odual Local Government Area of Rivers State.
Levi Marcus, Chairman of the Emago Kugbo Community Development Committee, confirmed the incident to newsmen that 20 children had died.
" We have another 15 cases on ground. We have tried our best to reach the government, but they (government) have not responded," he said.
Executive Director of Mother, Baby and Adolescent Global Health Foundation, Dr. Eli Sokarimie, blamed lack of surveillance, failure to immunize babies, and lack of sensitization for the outbreak of measles in some parts of Nigeria.
"However, reports show that the prevalence of measles among children under the age of five has been steadily increasing in Nigeria"
Measles is an acute viral respiratory illness. The virus is found in the nose and throat of an infected child or adult.
The virus is transmitted from one person to another person when a sick person coughs, sneeze, or talk. Infectious droplets spray into the air where other people can breath them in. The infectious droplets can hang in the air for about an hour. It is advised that parents/ guardian seek the help of a medical doctor for cases or suspected cases of measles.
As of April 2022, World Health Organisation report 21 large and disruptive measles outbreaks around the world in the last 12 months. Most of the measles cases were reported in Africa and the East Mediterranean region.
The report stated that the figures are likely going to be higher as the pandemic has disrupted surveillance systems globally, with potential underreporting.
Countries with the largest measles outbreaks since the past year include Somalia, Yemen, Nigeria, Afghanistan and Ethiopia.
WHO also stated that insufficient measles vaccine coverage is the major reason for outbreaks, wherever they occur.
Meanwhile, UNICEF and WHO, along with partners were said to be working hard to recover lost ground in the report.