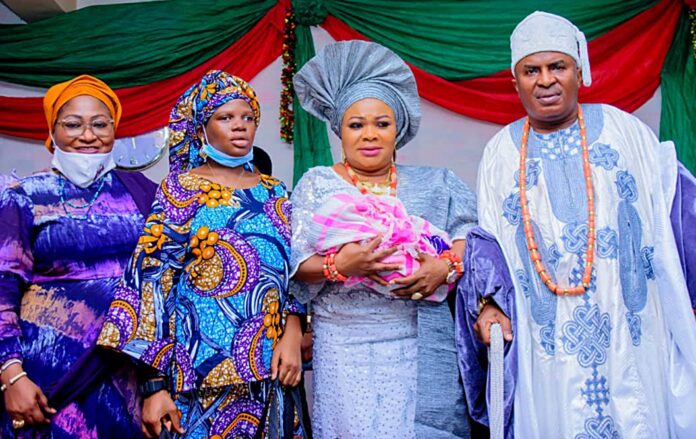 The 1st lady of Osun State, Kafayat Oyetola has rehabilitated and returned Labake, a mentally ill pregnant teenager, with her baby to the palace of Alapomu of Apomu on Tuesday.
According to Olori Janet Afolabi, the first lady sighted the girl in her condition in October, 2020 at the launch of interest free loans for Apomu market women (Olori's initiative) and there she decided to take the fragile teenager for rehabilitation and return her after her delivery.
Olori Janet could not hold her joy and shared on her Facebook platform, "l didn't want to be hasty in talking about it. I wanted to wait till the end. Yesterday, December 14, the end manifested. Now l can share the story".
"Labake, a mentally ill pregnant teenager came into the hall through the back door. She went through the crowd unnoticed until she got to the front. A Security man in black suit grabbed her arm and pushed her out.
"That action attracted the attention of Osun State First Lady, Kafayat Oyetola, who was sitting next to me. In a whisper, she asked me" who is that girl?" " l don't know her" l replied. She asked Kabiyesi the same question. Kabiyesi said the girl is mentally ill. Someone took advantage of her mental illness and impregnated her. She comes to the palace hall whenever there is an activity to beg for money to eat. The first lady was touched. She instructed the same Security man who pushed her out to go bring her back.
"Governor Oyetola's wife announced that she will take Labake away for rehabilitation and take care of her till she delivers. Promise made. Promise kept".
Olori Janet said with heavy jubilation in the palace, she received Labake and her baby back to the palace from the first lady on Monday.
"There was heavy jubilation as the First Lady walked into the Palace hall carrying Labake's newborn baby. The joy was infectious."
"The baby was officially handed over to me. l received the baby as a gift presented to me 48 hours to my birthday and l see the baby as the palace responsibility. The first lady has done her part. It is now our turn to do ours".
Olori also announced that the Kabiyesi has granted Labake's first request which requested through the First Lady that a proper naming ceremony be done for her baby.
"Preparation for the occasion has started" She added.
Congratulations to Apomu Kingdom! Congratulations to Osun State first lady for her kind gesture! Congratulations to Labake who has now found joy after going through the untold story of life as a teenager.