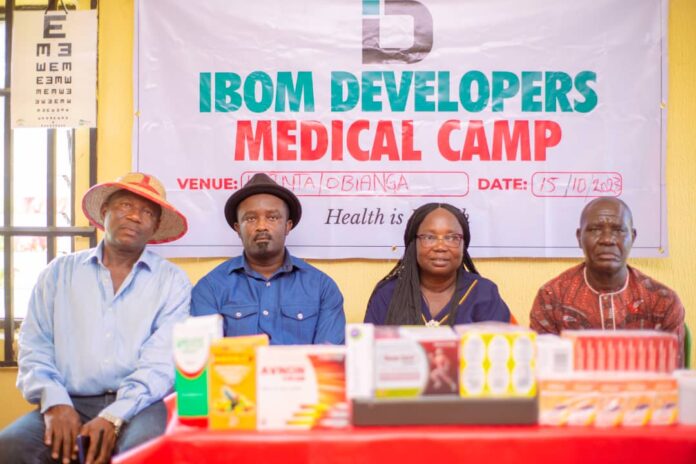 In continuation of the medical outreach in mitigating the health needs, on October 15 and October 16, 2023, Ibom Developers organised a two-day event, themed "Health is Wealth."
This impactful initiative took place at the Ikonta/Obianga Health Centre, Eastern Obolo LGA, Akwa Ibom State, rendering free medical care to 1,400 individuals, including women, men, and children.
It addressed health concerns such as malaria, typhoid, skin rashes, and other health-related issues for residents of Ikonta, Lagos Fishing Port, and Obianga Community.
We all live in an incredibly busy world and often forget the worth of wellness. But to thrive, communities need to nurture a healthy environment. Health is considered valuable and precious for every individual. Good health means absence of disease in the body with complete physical and mental well-being.
At the event, Mrs. Atim Asuquo Ulo, Director of Primary Health Care, Eastern Obolo LGA, emphasised the importance of community health. She said, "Access to quality health care should be a basic human right.
Ibom Developers has remained committed to making a difference in the lives of the communities by providing them with essential health care services and building resilient communities for the future."
Physical wellbeing is a fundamental key indicator of sustainable development. Medical outreach services are one of the ways to ensure improved and continued access to good health care and is vital for curbing the health challenges.
The Village Head of Obianga Community, Chief Humphrey Humphrey Oyet, said, "This initiative provides a complete method to fostering natural change, preventive, and curative health care services."
Dignitaries, including Mrs. Atim Ulo, the Medical Director of Primary Health Care, Eastern Obolo LGA; Chief Humphrey Humphrey Oyet, Village Head of Obianga Community and Chief Kenneth Augustus Ogboyok, Family Head of Ogboyok Compound, Obianga were present at the event.
Ibom Developers focuses on offering critical health care essentials which, consequently, enhances the living standards in the communities.