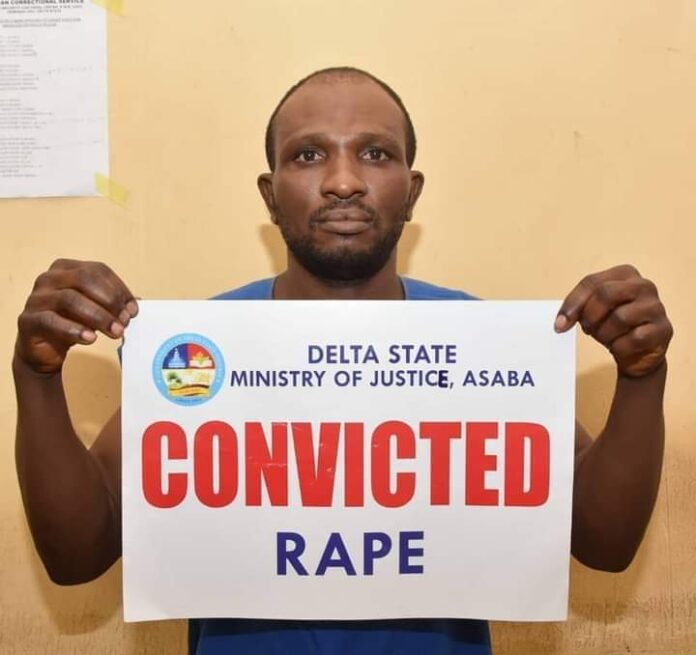 A 28- year-old father, Amechi Ogo has been sentenced to life imprisonment on Wednesday, 1st February, 2023 for defiling his 4 years old daughter
The judgement delivered at the Delta State High Court Asaba was presided over by Honourable Justice Flora Ngozi Azinge.
The defendant was arraigned before the High Court on a charge of rape for having unlawful carnal of his child at Asaba on 31st May 2018, contrary to Section 218 of the Criminal Code Law of Delta State.
The prosecution led by the Director of Sexual Offences Unit, Ministry of Justice, Mrs P.U. Akamagwuna told the Court that the Defendant came home on the fateful day and demanded for sex from his wife. When his wife turned him down and left the house on an errand, the Defendant forced himself on his four year old daughter. This father was caught in the act by a neighbour and fled the scene.
He was subsequently arrested by the police. The Defendant made a confessional statement which was tendered in court. In his trial, the Defendant retracted the confessional statement and denied committing the offence.
Delivering judgement, Honourable Justice Flora Ngozi Azinge held that the evidence of the 4 year old child and the witness who caught the father in the act, together with the Defendant's own confessional statement proved beyond reasonable doubt that he committed the offence.
Justice Azinge held that the defence raised in the confessional statement of the Defendant, to the effect that he lost all sense of reasoning after a native doctor laid hands on him and directed him to have sex with any woman he saw, was untenable and an afterthought.
He described the defendant as a paedophile, whose conduct in raping his own 4 year old child was callous, animalistic, barbaric and against the laws of God. She stated that the society needed to be protected from fathers like the Defendant who prey on children. The court thereafter sentenced the Defendant to life imprisonment.
Speaking to newsman after the Judgment, Mrs P.U. Akamagwuna said that the State Ministry of Justice will continue to aggressively prosecute all sex related offenders in line with the Ministry's zero tolerance policy towards such heinous crimes.
It will be recalled that the Sexual Offences Unit of the Ministry of Justice had previously recorded three judgements in sex related offences cases in this current legal year.
The Convict has since been registered in the Delta State Sex Offenders Register and his details uploaded to the national database