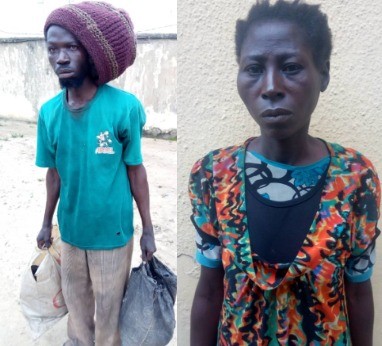 A woman who pretended to be mad but specializes in kidnapping has been arrested by the mob in Imo state.
She was arrested after she and a male partner had kidnapped and sold a two years old boy for N920,000.
An eyewitness said the male suspect when interrogated, confessed he was paid 400,000 Naira to kidnap the child from his home and hand him over to the female suspect who later went ahead to sell him.
Meanwhile, the woman, who was nabbed in Awomama, Imo state, said she was given 920,000 Naira by the people who had already bought the child from her.
According to her, she paid her male partner N400,000  while her proceed was N520, 000.
However, the child was rescued after the female child trafficker was caught and she led them to the people she sold the child to.
Sources also revealed that the suspects' bags were full of charms and biscuits which they use to bait the children for kidnapping.
The Anambra Police Public Relation Officer could not be reached as at press time.